The construction of the Metsä Group's bioproduct mill in Äänekoski in Finland began in May 2015. In 2015, the focus was on construction and installation work started at the beginning of 2016. Production trials will begin at the mill in spring 2017. The mill start-up will begin in mid-August 2017, and pulp deliveries from the new mill to customers will begin in early September 2017.
Live camera feed from the construction site is available on our website.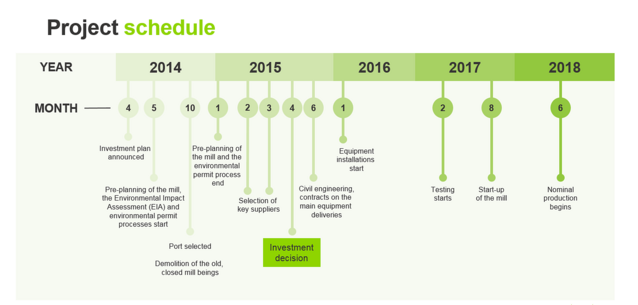 We have entered into new partnerships for the construction of the bioproduct mill
Construction design
The following partners are responsible for the construction design of the bioproduct mill:
Main designer: UKI Arkkitehdit Oy
Structural design: Sweco Rakennetekniikka Oy
Excavation and foundation engineering: Geotek Oy
Bridge engineering: Sito Oy
Agreements on the main equipment have already been signed. Valmet Corporation will supply the recovery boiler, drying line, lime kiln, bark gasification equipment and automation systems. Andritz Oy will supply the fibre line, wood processing plant, evaporation plant and causticising plant. Sweco is responsible for implementation planning. Around 70 per cent of the equipment will be acquired from Finland, and 100 per cent of the implementation planning will be carried out in Finland.
With regard to equipment acquisitions, Metsä Group is responsible for the heat exchangers, electric motors, valves, pumps, equipment installation, pipes and pipe bridge, as well as electrical installation and instrumentation installation. Valmet and Andritz are responsible for the main process equipment, reactors and tanks.
The contact persons for main equipment acquisitions are:
Valmet Corporation: Hannu Niemi, hannu.tapio.niemi[at]valmet.com
Andritz Oy: Jouni Korhonen, jouni.korhonen[at]andritz.com
Metsä Group: Jouko Yliviuhkola, jouko.yliviuhkola[at]metsagroup.com
The construction of the bioproduct mill is being carried out through client-driven subcontracts. The construction of the bioproduct mill, as well as the various contracts, will be divided into smaller parts in a manner that enables local and smaller companies to participate in the construction.
Number of employees
The number of employees working on the construction site of the bioproduct mill in was at its highest during the installation work: up to 3,000 people between autumn 2016 and spring 2017.
At the moment in June 2017 the number of employees is under 2,000.
The employment effect of the construction period will be more than 6,000 person-years. More than half of this total will be carried out in Äänekoski. After production begins, the employment effect of the bioproduct mill throughout the value chain in Finland will be 2,500 jobs, including around 1,500 new jobs. The employment effect will be most significant in harvesting and transportation. Read more about the impact of bioproduct mill: Metsä Group's bioproduct mill has a strong impact on Finland's national economy.
Scope of the construction of the Metsä Group bioproduct mill in Äänekoski
Total area required for the mill: 40 ha
Gross building area: 142,000 m2
Total building volume: 1,200,000 m3
In-situ concrete: 100,000 m3
Load-bearing concrete arches: 80,000 m2
Piling: 190 km
Steel structures: 7,000 t
Concrete elements: 15,000 pcs
New bridge for lorries: 80 m
Railway work, new tracks: 4.5 km
Excavation: 220,000 m3
Dredging and filling: 250,000 m3
Raw-water pipe (diameter 2.2 m): 1.2 km