When Dr Wolfgang Leitner, President and CEO of ANDRITZ AG, first heard about Metsä Group's bioproduct mill project, he was immediately interested in the overall concept. Leitner describes the bioproduct mill as a promising project from its technical solutions to its environmental efficiency and annual pulp production capacity of 1.3 million tonnes.
Leitner also says that the bioproduct mill embodies modern industry.
"The mill affords a whole range of opportunities to further process pulp into other bioproducts, and these are all very promising too. The bioproduct mill really does embody modern industry," Leitner says.
Leitner, who is Austrian, visited Äänekoski in Central Finland on Monday 21 March of 2016, and the programme included a tour of the construction site. ANDRITZ Oy and Valmet Oyj are the two main equipment suppliers for the bioproduct mill. ANDRITZ Oy, part of ANDRITZ AG, is supplying the new mill's fibre line, wood treatment plant, evaporation plant and causticising plant.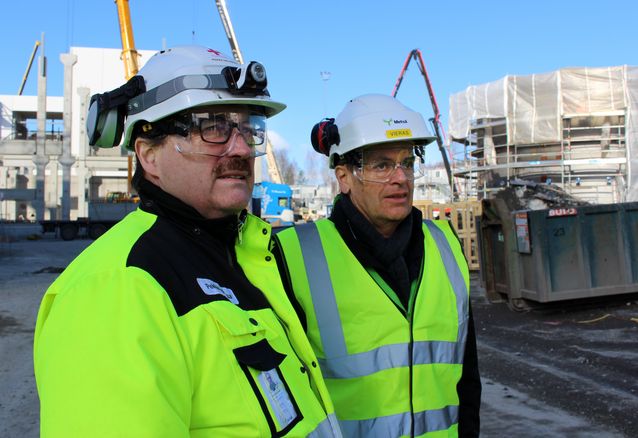 "This project also signals Finland's competitiveness in the world pulp market."
Leitner says that the bioproduct mill is a hallmark of competence, not only for Metsä Group but for Finland as a whole – a sign that we can implement such a project and meet growing demand for pulp in China.
"This project also signals Finland's competitiveness in the world pulp market."
Leitner arrived from Austria on Monday morning and travelled straight to Äänekoski. He praises the smoothness of the cooperation with Metsä Fibre.
"Our companies have a long history of cooperation in several different projects: here in Äänekoski a good thirty years ago and also with the pulp mill that started up in Rauma in 1995, and most recently at the Joutseno mill in 2001. We work well together," Leitner says.
"It's great to work with a professional company that gets things done. The bioproduct mill concept has been systematically updated according to plan," Leitner says.
Leitner is himself keeping a close eye on how Metsä Group's project is progressing, as he does with ANDRITZ's other major projects worldwide. During his tour of Äänekoski, he visited the main construction site and, in particular, the fibre line digester, which was supplied by the company and is currently being installed. Ilkka Hämälä, CEO of Metsä Fibre, hosted Leitner's visit.