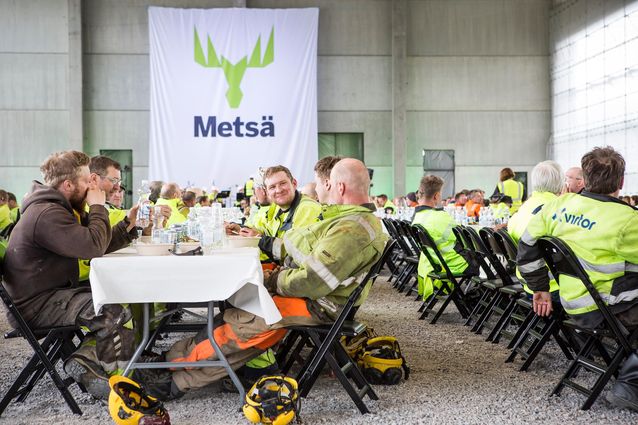 The topping out of Metsä Group's bioproduct mill was celebrated on Wednesday 18 May 2016 in Äänekoski.
Serving as the venue was the site of the baling plant, where the ceremony commenced at 2 pm with traditional topping-out ceremony catering: pea soup, bread and non-alcoholic beer, followed by coffee and raspberry cake at the close of the event.
Teppo Virtala, Site Manager, served as the master of ceremonies. Speeches were given by Timo Merikallio, Project Director, Pekka Salomaa, Construction Manager, and Ari Harlamow, the site's chief shop steward, with Teemu Lantto, Project Manager from Graniittirakennus Kallio Oy, giving a speech as a representative of the site contractors.
In his speech, Lantto noted how the site of the biggest investment in the history of the Finnish forest industry to date is at the same time both a challenging and a learning experience.
"A project of this kind is interesting, as it also challenges us as constructors, making it necessary to adapt our operating model. The project is challenging not only in terms of its size and technical complexity, but also in terms of the additional requirements posed by the rapid construction timetable typical of production plant projects, the overlapping execution of planning and on-site work, and the large number of contractors working on the site," Lantto explained.
"The common goal we all share is to bring the entire bioproduct mill project to completion successfully in terms of occupational safety, quality, costs and timetable alike," Lantto concludes, commending Metsä Fibre, the trade unions and all the partners involved.
Music for the topping out ceremony was provided by Äänekosken Työväen Soittajat, with Esko Eirola as the conductor and Jukka Vehkala performing as the soloist. Marching music was performed in the ceremony, including the classic "Muistoja Pohjolasta" ("Memories from the North"). The soloist performed three tunes: "Maantieltä taloon" ("Son Of My Father"), "Amarillo" and "Tuulen suojaan" ("Yellow River").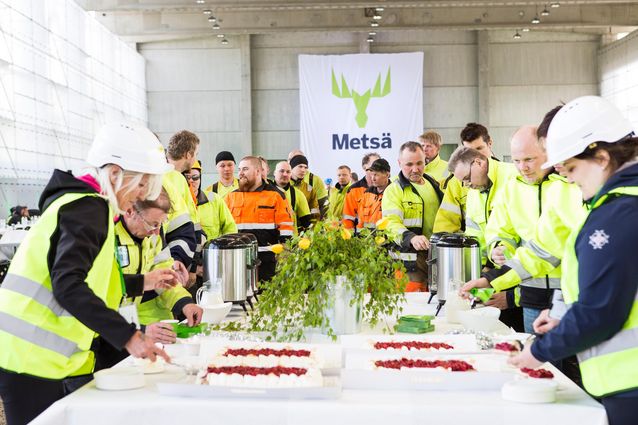 A traditional builders' rite
The topping out ceremony is a traditional builders' rite celebrating the completion of a building's roofing and the building successfully being protected from rain. In the old days, a lot of people were needed to erect the roof, and a party was then arranged on-site to compensate them for their efforts.
Traditionally, the topping out ceremony is held on-site and features festive speeches and lunch. In Finland, the dish traditionally served at topping out ceremonies is pea soup, with beer served as the beverage.