The construction of Metsä Group's bioproduct mill in Äänekoski has progressed rapidly despite the cold temperatures during the beginning of the year. The steel frame of the massive recovery boiler is currently being erected.
Towards the spring, construction work will be followed by installation work and earthwork. Excavation and casting work is still being carried out, but mechanical equipment installation is in progress as well.
"The installation of the boiler and large pulp towers began in early January," says Timo Merikallio, Project Director for the bioproduct mill project at Metsä Fibre.
According to Merikallio, the construction work has progressed as planned overall.
"The mild weather and lack of snow in November and December were favourable for construction. The work progressed even during the cold temperatures in January, but we were not able to carry out casting or heavy lifting operations." The general temperature limit on the construction site is -20 °C.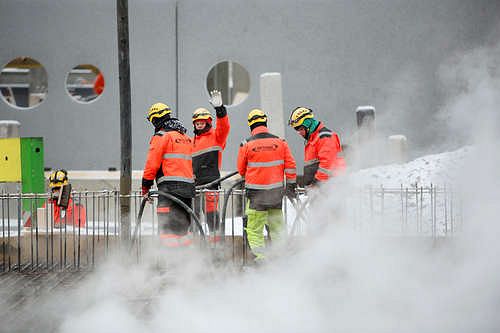 Competitive deliveries from Finland
The steel frame for the massive recovery boiler of the bioproduct mill is currently being erected. The frame was delivered by Ruukki, a Finnish company.
"The frame will be more than 80 metres high. In terms of size, the boiler can be compared to Hotel Torni in Tampere," says Merikallio.
The construction of the bioproduct mill has a high degree of Finnish origin: more than 90 per cent. The degree of Finnish origin for the entire project is more than 70 per cent. According to Merikallio, purchases are made from the most competitive suppliers.
"It has been great to see that the most competitive suppliers are usually Finnish. If we receive equal bids from a Finnish and a foreign supplier, we prefer the Finnish one."
Most of the equipment for the bioproduct mill has already been purchased.
"The main equipment for pulp production was acquired in February 2015, but we are still making purchases related to installation. Beginning in late winter 2016, we will be focusing on installation work."
The mill is taking shape
As the construction work progresses, the bioproduct mill is turning from designs into a real complex.
"It's really interesting to see the mill emerge bit by bit. In this respect, we have made significant progress each day since the installation of the prefabricated concrete frame elements began last autumn," says Merikallio.
Towards the spring, the number of employees will increase rapidly as the installation work reaches full tilt.
"By May, the number of employees will increase from the current 600 to 1,000. By the end of the year, up to 2,500 employees will be working on the construction site."
The project office will move to temporary facilities next to the construction site. The project will definitely keep everyone busy.
"Fortunately, we have an excellent team implementing this project. Having a great team helps you keep your spirits up even during the busiest times," says Merikallio.