Seeing everything working is the best feeling.

"It's great to be able to see every day how well the project and processes are progressing in practice. The people working for the project feel their jobs are meaningful and have a clear purpose," says Juha Pesonen, coordinator of Metsä Group's bioproduct mill project, as he watches the mill area from the stairs of a site hut.
According to Pesonen, the bioproduct mill's construction organisation resembles a foreign legion of highly skilled professionals. By "foreign legion" he means that the employees come from different parts of Finland – Pesonen travels to Äänekoski from Espoo.
"Everyone is highly motivated. The most important thing is to ensure that all of the employees adopt the same working methods. Otherwise, the project won't work."​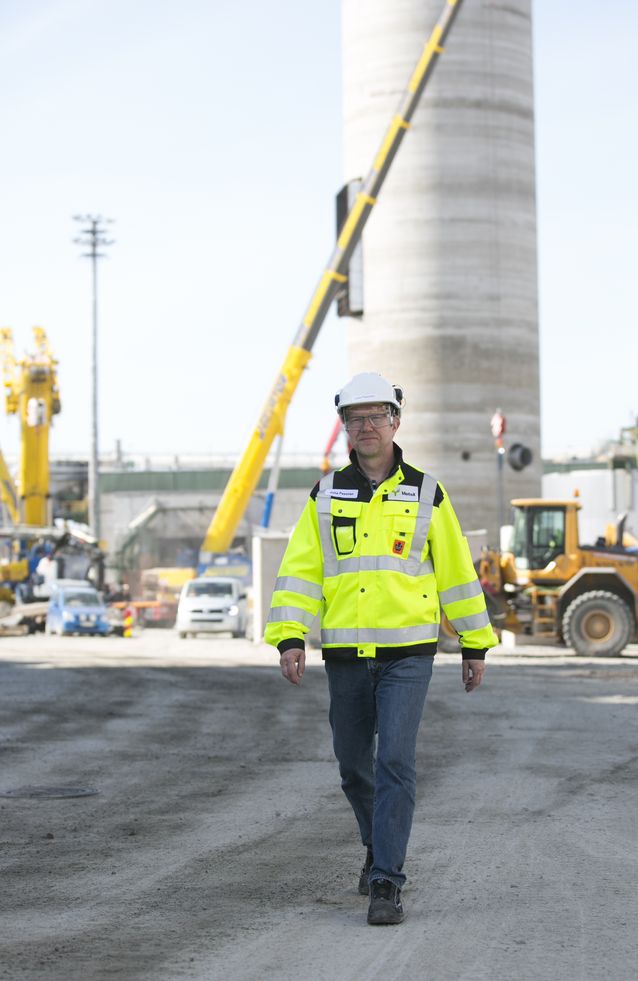 Strong experience in mill projects
The job of the project coordinator includes ensuring that things are progressing in the desired direction and that the people are working towards common goals.
"Ensuring safety, staying on schedule, controlling costs effectively and ensuring a successful start-up – these are the common goals that all of our work is based on."
Ensuring safety, staying on schedule, controlling costs effectively and ensuring a successful start-up.
Pesonen's strengths include his long and varied experience in the forest industry.
"I joined Metsä-Botnia in Äänekoski in 1989. From there, I transferred to Metsä-Rauma, where I worked as the financial manager of a mill project. After that, I held various positions in finance, business development and procurement at Metsä Fibre and UPM," says Pesonen, who holds a Master's degree in economics and business administration from the University of Jyväskylä.
Like many other professionals working in the bioproduct mill project, Pesonen has previously worked in Uruguay.
"I served as the coordinator of a pulp mill project and lived in Uruguay for almost three years."

Project under control
Two years ago, Ilkka Hämälä, CEO of Metsä Fibre, made an offer Pesonen could not refuse.
"He gave me two options and asked me to choose. In other words, it was an easy decision," Pesonen says with a smile.
It was an easy decision.
Pesonen participated in the preliminary planning of the bioproduct mill and was also involved in preparing the investment proposal. Now he is responsible for project administration. Cost control and risk management are important parts of his job.
"Risk management is much more than just monitoring risks. Its goal is to ensure that everything goes according to plan," he stresses.

Steering groups play a key role
For Pesonen, steering groups are among the most important ways to ensure that the project is progressing as planned. In addition to the management group, Pesonen participates in the work of operational steering groups with the main equipment suppliers, for example.
"Anticipation is the best way to ensure smooth progress. In this particular project, I have been involved in project management more than ever before."
Pesonen is also responsible for governance. Simply put, governance is a system for managing business operations systematically in line with good administrative practices.
"This ensures coordinated decision-making within the appropriate framework," Pesonen explains.

Exercise after work
The project coordinator works hectic, often long, days in the project office.
"My work involves a great deal of sitting in the car and at meetings, so I try to exercise as often as I can in the evening. Last winter, I bought cross-country skiing equipment and went skiing in Peurunka for the first time in many years. I also go swimming, and in the summer I play golf."
Pesonen spends the weekends with his stepfamily in Espoo that consists of one wife and two children still living at home.
"Our Toy Fox Terrier, Linda, is always the happiest to see me," he says with a laugh.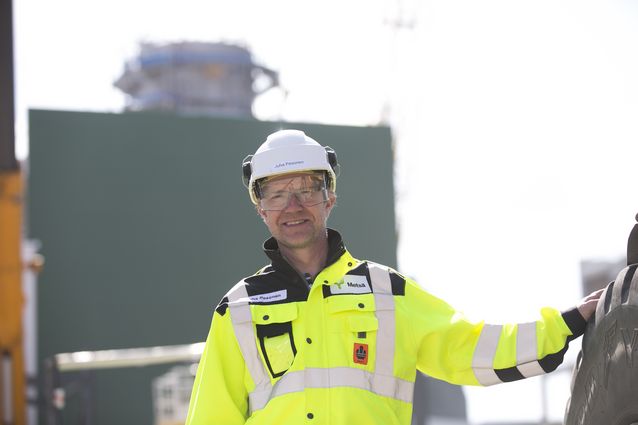 Juha Pesonen, 51
Place of residence: Espoo
Job: Project coordinator of Metsä Group's bioproduct mill
Career:
1989–1994: accounting and financial specialist, Metsä Fibre, Äänekoski
1994–1997: financial project manager, Metsä Rauma
1997–2004: accounting and development director, Metsä Fibre, Espoo
2004–2007: project coordinator, Uruguay, Metsä Fibre
2007–2009: business development, Metsä Fibre
2009–2011: procurement, head of the basic chemicals category, Metsä Group
2011–2013: director, business controlling, pulp business area, UPM
Since 2013: Metsä Fibre
Education: MSc (Econ), University of Jyväskylä
Family: Wife and four children
Hobbies: Cross-country skiing, swimming, golf, harness racing events.
The builders of the bioproduct mill is a series of articles that introduces readers to the people bringing the next-generation bioproduct mill to life and describing their work in the biggest investment in the history of the Finnish forest industry. The builders of the bioproduct mill will be published on our website at www.bioproductmill.com during 2016.
Project Director Timo Merikallio was intervieweed in the first article and Construction Manager Pekka Salomaa in the second article.