"I must admit that this project came as a surprise, but a very positive one," says Ossi Puromäki, who is the project services director of the Metsä Group's bioproduct mill project.
Puromäki was serving as the maintenance and development director of Oy Botnia Mill Service (BMS) when Timo Merikallio invited him to join the bioproduct mill project. The icing on the cake was the fact that this major investment was being made in his home town, Äänekoski.
"We work long days, but not many people are given an opportunity to participate in such a significant project in their home town. The commute is short," says Puromäki, who still works for BMS.
"For Äänekoski, the bioproduct mill will bring much-needed continuity for industrial operations, and it will offer new opportunities for many local businesses."
For Äänekoski, the bioproduct mill will bring much-needed continuity for industrial operations.

Strong local knowledge
Puromäki's local knowledge is highly beneficial for the project.
"The mill is being built in the middle of five fully operational plants, so we need to pay special attention to logistics. Having gone to school here in the 1990s, I am familiar with the area and the people, which is a great help in my work," says the 44 year-old Puromäki.
In addition to logistics, his team takes care of a broad range of duties, from monitoring deliveries to creating the maintenance infrastructure and making general arrangements.
"At the moment, we are working on maintenance equipment solutions, for example. The focus has been on ensuring usability but is now shifting towards data insertion for practical operations."
Puromäki and his team are responsible for planning the preventive maintenance of the machinery and equipment, among other aspects.
"The nature and focus of the work are changing constantly. To put it simply, we are working to ensure that the utilisation rate of the mill will be as high as possible," says Puromäki.

A chain of kick-offs
Equipment installation work on the construction site started at the beginning of this year. The work requires continuous attention from Puromäki and his team. The equipment to be installed includes the recovery boiler, pulp towers and various tanks, for example.
"Our calendar for the spring is full of kick-offs. Before equipment is installed, we discuss quality and other aspects with the equipment suppliers and fitters in great detail."
Puromäki is also responsible for monitoring the installation work.
"It is very important to coordinate the logistics precisely. The whole team has to play well together," says Puromäki, who holds a Master's degree in mechanical engineering and automation.

Back to nature
After a hectic day at work, Puromäki recharges his batteries by taking care of his forest estate.
"Forest work is an excellent form of exercise. There is always something to do, such as managing seedling stands using a clearing saw or collecting trunks felled by the wind," says Puromäki.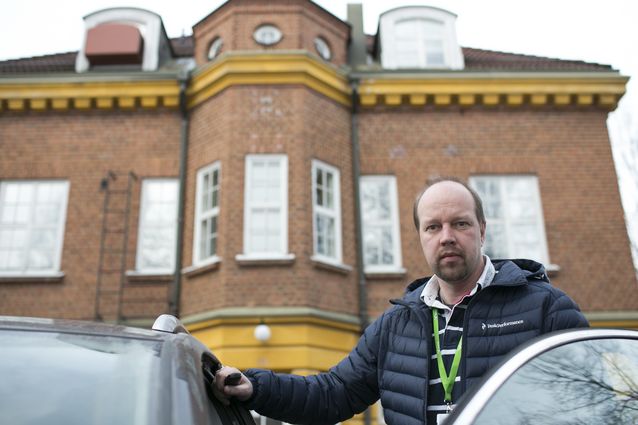 Ossi Puromäki, 44
Place of residence: Äänekoski.
Job: Project services director
Career: Maintenance and development director for Oy Botnia Mill Services prior to the bioproduct mill project
Education: Mechanical and automation engineer
Family: Wife and two daughters (aged 19 and 21)
Hobbies: Jogging, boating and forest management


The builders of the bioproduct mill is a series of articles that introduces readers to the people bringing the next-generation bioproduct mill to life and describing their work in the biggest investment in the history of the Finnish forest industry. The builders of the bioproduct mill will be published on our website at www.bioproductmill.com during 2016.
Project Director Timo Merikallio was intervieweed in the first article and after that Construction Manager Pekka Salomaa and Project Coordinator Juha Pesonen have described their work. Check out also Ossi Puromäki's interview from Metsä Group's YouTube.