As autumn arrives, Metsä Group's Äänekoski bioproduct mill project is turning over a new leaf. Most of the mill's construction work is complete, with the centre of attention now focused on the installation work.
"We are installing at full speed in all departments. In a week, a lot can be done. The pipe installations have also got off to a good start," says the visibly satisfied Timo-Pekka Aaltonen, the bioproduct mill project's Head of Installation.
Preparations for the mill's testing and commissioning are also under way.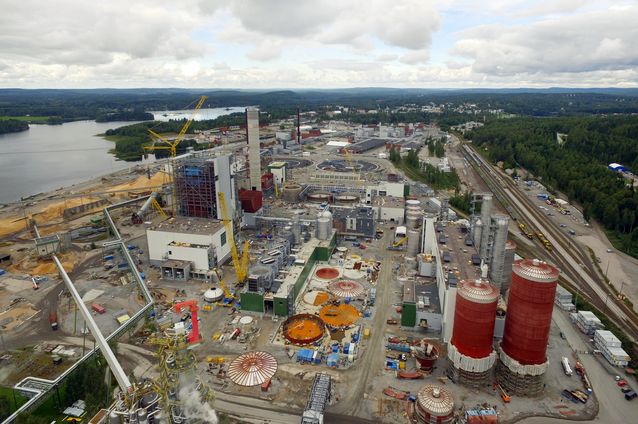 A challenging pipe project
Fitting the jungle of pipes in the buildings and between various departments in tight spaces is a project that demands extremely precise planning.
"Minute-by-minute schedules are a must to ensure that work does not need to be interrupted unnecessarily in any area. The Äänekoski pulp mill will have maintenance shut down in October, at which point we will be able to carry out interface work, among other things."
The transportation peak for the bioproduct mill's installation material was from June to September. For this reason the use of nearly every square metre on site has had to be planned to a tee. As much as 4,000 truckloads of installation material has already been hauled to the site.
"We will be installing a lot of equipment in September, after which we'll have a little more space."
4,000 truckloads of installation material has already been hauled to the site.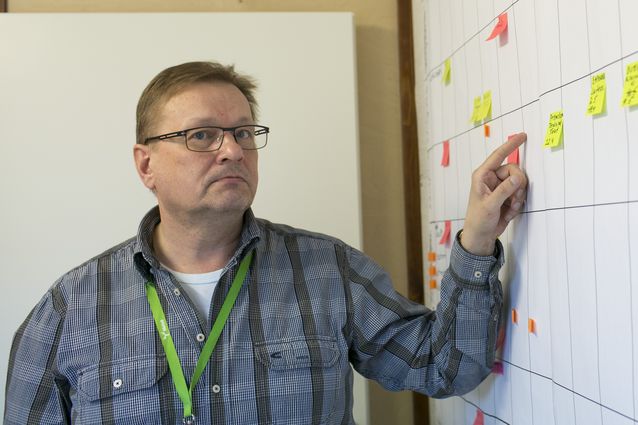 On-site workforce rising towards its peak
As the installation work has progressed, the average number of workers on site has risen to 1,700, of whom 300 are builders and the rest installers.
"The figure will rise to its peak of about 2,500 workers in November," says Aaltonen.
Subcontractors included, the installation work involves nearly 200 contractors. According to Aaltonen, the great number of workers is most visible at the site's gate and canteen, whereas for work, people spread out to a large area and indoors.
"Occupational safety is under constant scrutiny, given that we have a large number of people working in a small area. Luckily, we have been able to avoid any serious accidents."
Hoping for a dry autumn
According to Aaltonen, the bioproduct mill's construction and installation work have proceeded on schedule. Although there have not been any great surprises, unsettled weather has slowed down the work every once in a while.
"When it's wet, you have to pay more attention to the quality aspects of tank welding work that has been done outdoors, for example."
Strong winds, on the other hand, have an impact on lifting schedules. The correct dimensioning of resources has proved useful in getting back on track after slight delays.
Strong winds have an impact on lifting schedules.
"Right now, there's something happening on site 24/7, but even amidst all the hurry, the atmosphere is positive, since we all share a desire to reach our goal on time," says Aaltonen.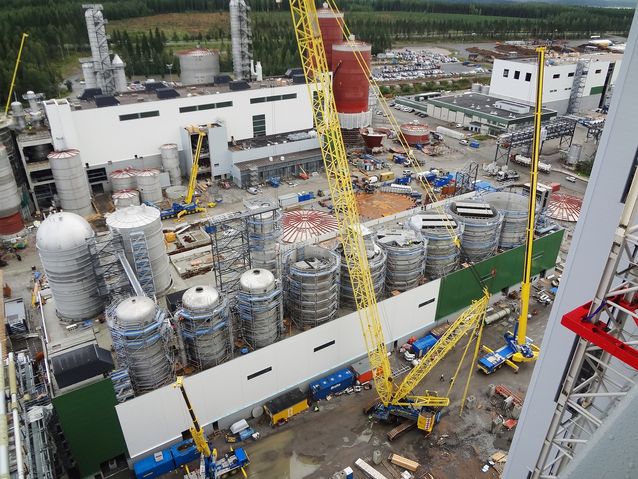 More information:
Anna-Liisa Pennanen
Communications Manager
Metsä Fibre, bioproduct mill
tel. +358 50 574 8071
anna-liisa.pennanen(at)metsagroup.com